Help Us Help You
Schedule a free consultation today.
Don't deliver just any proposal, have the best RFP response in the stack.
From finding your next bid opportunity to managing and submitting your bid response, our dedicated RFP consultants are there every step of the way. Whether you're in need of qualification assessment, writing and formatting, or the whole gamut, The Bid Lab's RFP consultants assist with proposals of all kinds, lengths, scopes, and formats. You can depend on us to ensure your submission is on time, on point, and on the shortlist.

Outsource RFP Responses to The Bid Lab
The RFP response process is intimidating and no two RFPs are alike. Developing an effective response takes valuable time away from your day job. The Bid Lab helps you focus on what matters, growing your bottom line. By outsourcing the meticulous requirements of RFP builds, you help us help you win, project by project and, ultimately, your overall revenues.
RFPs Are An Intimidating Process
Hundreds of requirements and the ability to get disqualified over a small technicality can scare even the most seasoned bidders.
Cost of Employees
Unless you are completing hundreds of bids per year, it doesn't make sense to hire an internal proposal team.
Turnover
Someone critical has left your company and you have an RFP to complete.
Disorganization
RFPs can get messy really quickly - let us implement our tried and true methods to organize your data, processes, and people around RFP responses.
Previous Disasters
While you may think you have what you need for an RFP response - going through the process once typically demonstrates the value of outsourcing this function. It's not only the work people want to avoid, but responding to an RFP without experience can lead to lower morale, higher risk, and lost sales.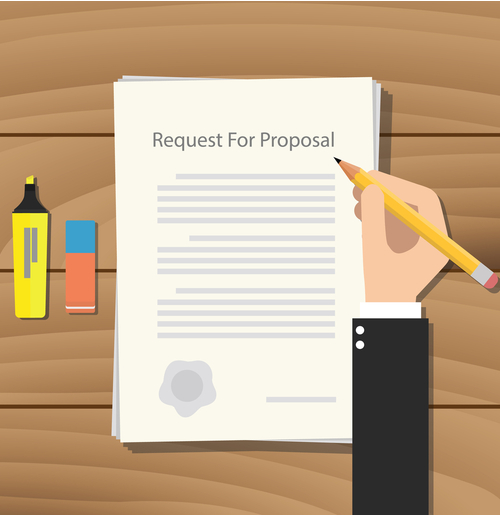 The Bid Lab Finds And Develops Your RFP Response
As an RFP consulting firm, The Bid Lab understands the intricacies of the RFP response process, from finding your first bid to submitting the perfect proposal. First, we find the bids that best suit your company's capabilities. This is done by obtaining and learning invaluable information about your organization and the types of jobs that you would be well-suited to win. We then store all of this information to utilize for each bid, minimizing work and input on your end. Your dedicated bid consultants review the unique components of each bid, while working with you to tailor your bid response. The Bid Lab does your busy work, so you can do the work that really matters.
We find the bids that best suit your company.
We learn about your company & find the best bidding opportunities.
Your dedicated bid consultant saves you time and grows your business.
Improve Your Workflow
Dedicated RFP Consultants
Having a dedicated RFP consultant means we go through each bid together, point-by-point, to deliver an RFP response that shows why you are the best choice to win. Whether we're crafting an executive summary or discussing deliverables, the quality of your RFP response can determine the difference between winning and losing a prospective bid. Your dedicated RFP response writer works with you, leveraging teamwork and technology to create strong RFP responses. By partnering with your key stakeholders, we are able to clarify, define, and deliver the best strategies to complete each required deliverable on time.
Your RFP response writer will craft perfect responses.
Get strategically crafted responses.
We know what wins bids.
Get RFP Responses That Work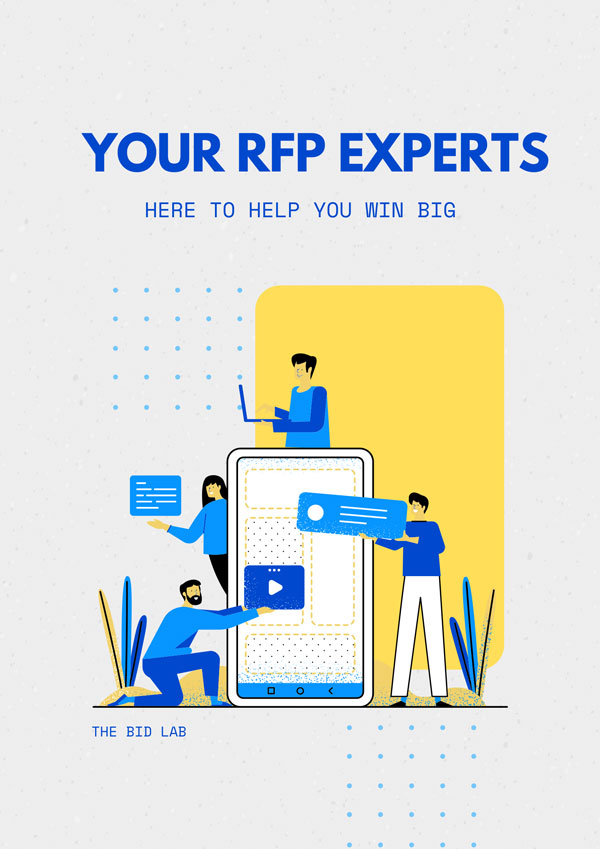 Rely On The RFP Experts
Throughout the entire bid response process, The Bid Lab guarantees consistent communication and transparency. We take the burden of creating RFP responses out of your hands. Even under a tight schedule, we work tirelessly to ensure your bid is comprehensive and correct. Your dedicated RFP manager guarantees your bid response on time, on point, and on the short list.
Why Us
Positivity. Anyone can do the job. Only we do the job with the right attitude, even when deadlines are tight.
Flexibility. Every firm has its own way of doing things. Our RFP consultants will work around your people, processes, and schedules.
Reliability. Our team has never missed a deadline, and we don't plan on starting anytime soon.
Quality. Our 4-eye review process ensures that even the smallest of errors are caught before work is submitted.
Transparency. Have any questions during the process? Call us and we will share the status of your bid at any time.
Our Clients Love Our RFP Responses
We are absolutely committed to being the partners that will make your project successful. Don't just take our word for it!