Representing the third largest economy in the United States, it isn't surprising that the Request for Proposal (RFP) landscape in Florida is becoming an invaluable source of opportunities for vendors of every size and scope. Whether your business calls Florida home, or is looking to expand into the state from elsewhere, winning the right Florida bid can make a monumental impact on your organization's revenue and growth.
The Bid Lab has what you need to win Florida bids.
As a Florida-based enterprise, The Bid Lab sees transformative Florida RFP opportunities each and every day. We work on both sides of the proposal process with clients working in Florida, and around the country, to manage their bidding needs.

The Bid Lab helps our clients find Florida bids that strategically align with their business needs, as well as helping manage their responses to ensure a win-worthy proposal. Our rich and varied experience bidding in Florida gives us a deep understanding of the state's biggest private-sector players, as well as the intricacies of public-sector requirements needed to win new contracts and grow your business.
We've worked extensively with the Florida Department of State, and are well-versed helping our clients with Florida compliance regulations, including everything from business registration to Registered Agent designation to e-filing.
Your checklist for winning Florida bids
Get compliant with all Florida state regulations.
Whether your business is headquartered in Florida or not, The Bad Lab has the expertise to ensure you are always in full compliance with all bid requirements. There's nothing worse than losing a bid you were poised to win because of a missed step, so contact us today and ensure this never happens to your organization.

Identify strategic bid opportunities for your organization.
Scaling up your bid finding process allows you to focus your efforts on RFPs that are 100% aligned with your business's comparative advantages. At The Bid Lab, we monitor RFP announcements wherever they are released. Partner with us and we'll do the legwork to identify perfect bid opportunities tailored to you, so you can continue focusing on what you do best.
Develop relationships with Florida's biggest RFP issuers.
At The Bid Lab we serve clients on both sides of the RFP process. Our work with organizations issuing RFPS, as well as vendors responding to RFPs, helps us develop solid relationships and a clear understanding of processes that we can leverage to help you win more Florida bids.

Make your responses Florida-specific.
Ensuring your bid demonstrates real responsiveness to the specific RFP at hand will help the person reviewing your bid understand that real thought and effort was applied to your proposal. The Bid Lab can help you identify unique characteristics about the requesting organization and incorporate them into your proposal. We will focus intently on the key needs of your potential client, and use their own words to both orient, and differentiate, your response.

Ensure your bid's design is the best in the pile.
Some bids might require very strict responses with predefined style guides. But at The Bid Lab, we find that many RFP reviewers often crave proposals that stand out from the pack. From innovative design software, to eye-catching visuals like infographics, imagery, and charts, we'll give your bid a polished look that allows it to stand out in the stack.
At The Bid Lab, we are immersed in the lucrative world of Florida bids and RFPs. We work with clients who don't always have the time, resources, or experience to manage, write, and build their bids. If you're interested in learning more about what we do, or have questions about how we can help your business thrive through RFPs, contact us today for a complimentary consultation.

Jacksonville Bids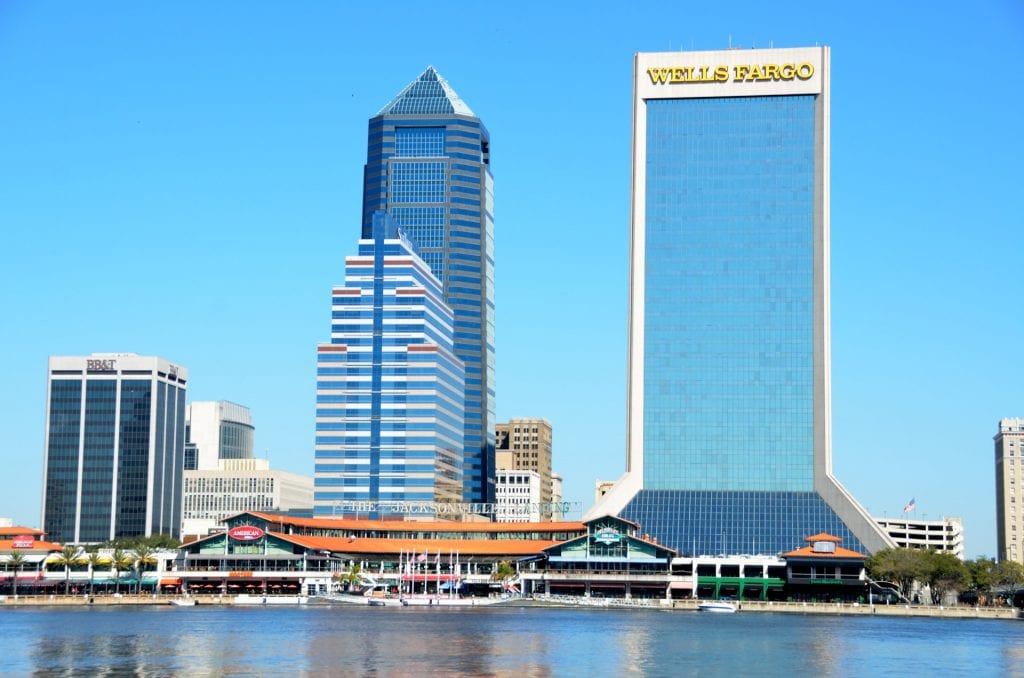 Jacksonville is the most populous city in Florida, and presents a commensurately large bidding opportunity for vendors looking to make a major splash. You will find especially lucrative RFP opportunities related to military contracting, manufacturing services, and transportation logistics. At The Bid Lab, our Bid Finder service experts regularly track Jacksonville bid opportunities from the US Navy, Florida Department of Management Services, the Jacksonville Transportation Authority, and more.
If you are interested in harnessing Jacksonville RFP opportunities for your business or organization, contact us today to learn about the regional expertise The Bid Lab can provide.
Miami Bids
Famous for its beautiful beaches and bustling nightlife, Miami's growing economy continues to result in a huge number of requests for proposals from vendors in the region, and around the country. Businesses in the tourism industry, like those providing meeting planning services and other hospitality related products, are in high demand. Also, as a major international port, Miami businesses, as well as local, state, and federal government agencies, consistently publish calls for vendors with experience in international trade, and financial services. At The Bid Lab, we work with these kinds of clients every day, and are eager to apply this experience to help you maximize your revenue in the Miami market.
Interested in learning more about Miami bids that will help your business expand? Contact us today for a complimentary consultation.
Orlando Bids
Orlando is not just the theme-park capital of the world but rather an immense suburban center with new RFP opportunities released daily. Businesses that support tourism and hospitality industries will be well-served to explore this critical market. Orlando is also the home of sizable educational institutions like the University of Central Florida, Florida Technical College, and many more. These institutions publish RFPs almost every day, with an especially large appetite for technology vendors.

The Bid Lab is plugged into these educational institutions' bid networks, as well as other major industry players across Orlando. If you would like to break in or maximize your business's presence in Orlando, contact us today for a detailed consultation.
Statewide Florida Bids
Jacksonville, Miami, and Orlando continue to release excellent bid opportunities in huge numbers, but there are valuable Florida bids available across the state. Statewide calls, especially in the public sector, are both numerous and lucrative. At The Bid Lab, we regularly share such opportunities with our network, at no cost, in our Featured Bids section. If you would like to receive notice of these Featured Bids, as well as other actionable information to help you in your bid process, be sure to quickly subscribe to The Bid Lab's newsletter.
Connect with The Bid Lab on your Florida Bid Strategy
And if more personalized service is required for your business, start winning more bids today by connecting with a Bid Lab RFP expert in an easy, no-pressure consultation.